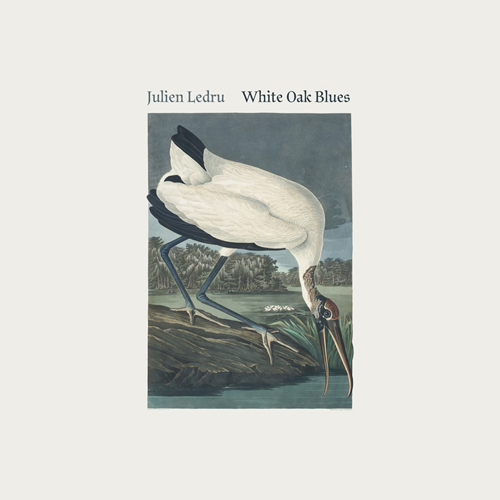 White Oak Blues (2020)
1. White Oak Blues
2. Craving Colors
3. The Death of the Wood Ibis
4. Barefoot and Chamomile Sap
5. Tokonoma
6. Acqua Alta
7. The Weight of the Nerves
8. Fig Tree Blues
9. Hide Among the Trees
10. Pasts
11. Daniel Variations
Recorded between november 2019 and april 2020.
Drawing: « Wood Ibis », hand-colored engraving from « The Birds of America », by John James Audubon (1785-1851).
This record is dedicated to Daniel Johnston.
Listen and buy the record on Bandcamp:
« Sur White Oak Blues comme sur Along the Road I Had Traveled, les mélodies sont sculptées avec précision et clarté, sans autre espèce d'artifice. Peut-être par choix de réduire sa musique à l'essentiel, peut-être simplement parce que sa technique le limite, le résultat est le même. Un filet mélodique lumineux et paisible, propre à laisser l'esprit vagabonder. »
XSilence

« Second album pour le guitariste Julien Ledru et confirmation d'un talent certain quand il s'agit de composer des musiques Folk instrumentales très évocatrices. »
Hop Blog

« Il y a des moments déchirants pendant ce disque, des inflexions aimantes que nous possédons dans notre bréviaire, comme ces fleurs des cimes que nous conservons dans un herbier, véritable livre de poésie de notre nature rêvé. »
À Découvrir Absolument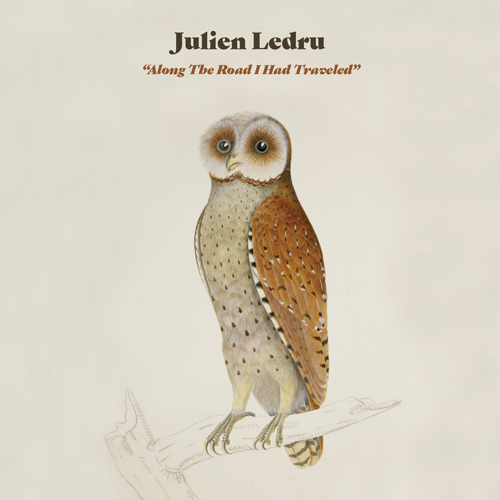 Along The Road I Had Traveled (2019)
200 ex. vinyl edition available
1. The Torsion of the Engined Firmament
2. The Late Lateness of the Night
3. A Faint Windy Noise of Speed
4. Beneath the Ghosts of Millenial Rain
5. The Middle and Pure Height and Whole of Summer
6. The Deep Sea Stood in Upon Me
7. In the Terrible Space and Enlargement of Silence
8. The Sun Has Lowered a Very Little
9. Numb with Sleep as Ruins
10. On a Road Between the Flying Shadows of Loose Wood
Recorded between August 5 and September 23 2018.
Titles are from James Agee's work.
Drawing: « Bay Owl », J. Briois, 1824, watercolour, from an album of 51 drawings of birds and mammals made at Bencoolen, Sumatra, for Sir Stamford Raffles.
This record is dedicated to Marie.
In loving memory of Suzie.
Big thanks to the 72 owls and Microcultures.
Buy the vinyl and listen to the record on Bandcamp:
« Un disque intime et précieux que nous adoptons d'écoute en écoute, car des voyages comme celui-ci sont précieux et rares. »
À Découvrir Absolument

« La musique de Julien Ledru est très chouette ! »
Benzine

« Cet album aux titres inspirés par l'œuvre du romancier James Agee est une jolie surprise, une suite de titres très variés, en forme de voyage sur de petites routes de campagne d'Amérique ou d'ailleurs. »
Des chips et du rosé

« Une réussite prometteuse en somme, qui culmine sur la tension feutrée et pleine d'espoir de son final nomade On a Road Between the Flying Shadows of Loose Woods. »
Indie Rock Mag