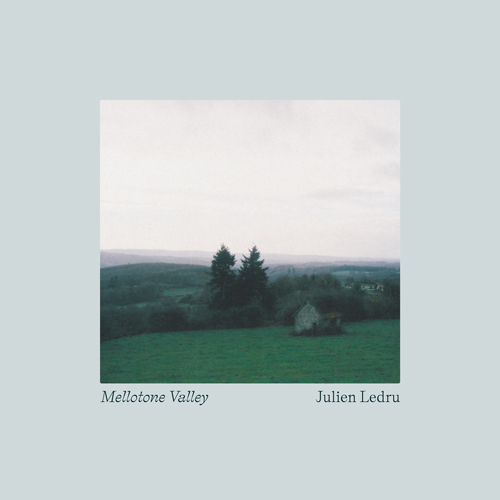 Mellotone Valley (September 22, 2023)
Buy the CD or the limited edition, hand-numbered  12″ color vinyl
1. Mellotone Valley
2. Spiders Spread Ghosts of Suns
3. Petaluma
4. Snowshoe Rabbit Blues
5. Tender Life
6. Of Those that are Drawn Away
7. The Fire and the Bear
8. Broken Glass
9. Good Night Lou
10. Be Gone, Begonia
Produced, recorded, mixed and mastered at Under Roofs Studio by Guillaume Charret.
All compositions by Julien Ledru.
Twelve string guitar on Of Those that are Drawn Away and slide guitar on The Fire and the Bear by Guillaume Charret.
Cover photography  by Harmonie Aupetit.
Inside photography by Grégory Marza.
Typography:  Self Modern by Lucas Le Bihan, Fonderie Bretagne.
Many thanks to Guillaume, Jean-Michel, Elisa, Odile, Christian, Caroline, Harmonie, Grégory, Jean-Charles and Julie.
Watch the video of « The Fire and the Bear »:
Watch the video of « Petaluma », live for a Popnews session:
Buy the vinyl or CD and listen to the record on Bandcamp:
« Ouvert et clos par deux merveilles de sept minutes chacune – les brumes matinales de l'éponyme Mellotone Valley et le soleil couchant de Be Gone, Begonia, embrassant un monde qui s'éveille, s'anime et s'éploie, serpente puis se fond dans le lointain -, l'album s'écoute d'une traite, comme on respire, comme on vit. »
Pierre Lemarchand, Magic numéro 67, 21 septembre 2023
« Julien Ledru's Mellotone Valley was so welcome in its straightforward, gorgeous simplicity – not that his playing style is simple at all, just, it's nice to focus on the guitar and guitar adjacent sounds. Because that's one of the most beautiful sounds in existence. »
Petal Motel
« Avec son jeu de guitare souple et élégant, il nous livre 10 nouveaux titres composés et joués à la guitare acoustique, dans lesquels son fingerpicking fait encore des merveilles. Un disque superbe, qui vous ouvre les portes sur de vastes horizons. »
Possible Musics
« Julien Ledru ne s'égare jamais, au contraire, sa musique se déploie lentement, les deux parties distinctes de « Mellotone Valley » qui ouvre l'album, sont contrastées par la luminosité expansive qui prend forme et dissipe les brumes du commencement. Julien s'aventure là où on ne l'attend pas, non en terrain conquis, mais comme naturaliste. Il nous faut apprendre à écouter. »
À Découvrir Absolument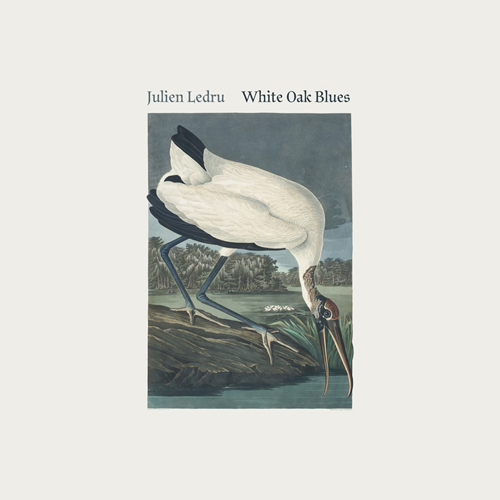 White Oak Blues (2020)
Vinyl edition of 300 available
1. White Oak Blues
2. Craving Colors
3. The Death of the Wood Ibis
4. Barefoot and Chamomile Sap
5. Tokonoma
6. Acqua Alta
7. The Weight of the Nerves
8. Fig Tree Blues
9. Hide Among the Trees
10. Pasts
11. Daniel Variations
All tracks written, played and recorded by Julien Ledru between november 2019 and april 2020.
Mastering: Guillaume Charret.
Drawing: "Wood Ibis", hand-colored engraving from "The Birds of America" by John James Audubon (1785-1851).
Artwork: Julien Ledru.
This record is dedicated to Marie.
In memory of Daniel Johnston.
Vinyl edition out on Marjan Records.
Available in the UK through Worried Songs.

Buy the vinyl and listen to the record on Bandcamp:
« French American Primitive guitar? Sure! Transmitted to us from Paris, Julian Ledru's playing is sparkling and crisp, whether on guitar or banjo. He often brings to mind the Windham Hill masters of days gone by—but at least part of his inspiration for White Oak Blues comes from a fairly distant source: Daniel Johnston. Not that Ledru sounds like Johnston, really, but his touching elegy for the late singer-songwriter, "Daniel Variations," conjures up that fragile spirit. »
Aquarium Drunkard
« Volontiers chaleureux, l'univers de Julien Ledru sait se faire virtuose sans jamais, absolument jamais oublier son auditeur. Aucune velléité expérimentale qui viendrait nuire à l'attention et à la clarté du propos. Julien Ledru, au contraire, manipule le silence comme un espace possible. C'est souvent beau à pleurer, touché par une grâce modeste et sans éclat. Julien Ledru ne garde que l'essentiel, une émotion brute et élégante. »
Benzine
« Julien Ledru parvient de la façon la plus touchante à diffuser ses ondes mélodiques sans prétention aucune, sinon celle de toucher ses cibles en plein cœur. Propice à la rêverie mélancolique, sa musique se répand insidieusement dans les moindres recoins, vient se loger là où on ne l'attend pas et le fil des plages musicales s'écoule doucement au terme d'une première écoute qui ne suffira pas à révéler toute la beauté et la profondeur de l'objet. »
Telescope
« Sur White Oak Blues comme sur Along the Road I Had Traveled, les mélodies sont sculptées avec précision et clarté, sans autre espèce d'artifice. Peut-être par choix de réduire sa musique à l'essentiel, peut-être simplement parce que sa technique le limite, le résultat est le même. Un filet mélodique lumineux et paisible, propre à laisser l'esprit vagabonder. »
XSilence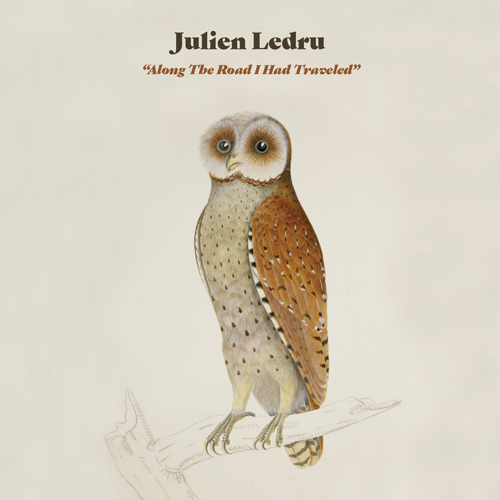 Along The Road I Had Traveled (2019)
Vinyl edition of 200 available
1. The Torsion of the Engined Firmament
2. The Late Lateness of the Night
3. A Faint Windy Noise of Speed
4. Beneath the Ghosts of Millenial Rain
5. The Middle and Pure Height and Whole of Summer
6. The Deep Sea Stood in Upon Me
7. In the Terrible Space and Enlargement of Silence
8. The Sun Has Lowered a Very Little
9. Numb with Sleep as Ruins
10. On a Road Between the Flying Shadows of Loose Wood
All tracks written, played and recorded by Julien Ledru between August 5 and September 23 2018.
Titles are from James Agee's work.
Drawing: « Bay Owl », J. Briois, 1824, watercolour, from an album of 51 drawings of birds and mammals made at Bencoolen, Sumatra, for Sir Stamford Raffles.
Artwork: Julien Ledru.
This record is dedicated to Marie.
In loving memory of Suzie.
Big thanks to the 72 owls and Microcultures.

Available in the UK through Worried Songs.
Buy the vinyl and listen to the record on Bandcamp:
« Un disque intime et précieux que nous adoptons d'écoute en écoute, car des voyages comme celui-ci sont précieux et rares. »
À Découvrir Absolument
« La musique de Julien Ledru est très chouette ! »
Benzine
« Cet album aux titres inspirés par l'œuvre du romancier James Agee est une jolie surprise, une suite de titres très variés, en forme de voyage sur de petites routes de campagne d'Amérique ou d'ailleurs. »
Des chips et du rosé
« Une réussite prometteuse en somme, qui culmine sur la tension feutrée et pleine d'espoir de son final nomade On a Road Between the Flying Shadows of Loose Woods. »
Indie Rock Mag